We often pay a lot of attention to the common spaces when we design our living spaces. But we often forget that our personal spaces, especially our bedrooms deserve equal attention. The adults of the house might not be as motivated as the tiny tots when it comes to decorating the bedrooms. Designing your children's bedroom can have a lasting impact on them and you won't believe the kind of wonders it does to their overall development.
The idea is to keep the lighting layout of the room as engaging as possible with a lot of zesty and colourful designs. Layering necessarily shouldn't be a priority but ambient lighting and task lighting are a must for the space. Consulting a lighting expert can be helpful too as your kids' rooms need optimal illumination at all times. For now, take a look at these trending lighting ideas that can transform your kids' spaces.
Evergreen primary lighting
Kids grow up too fast and as a parent you'll definitely need to think about the future before you can think of the present. If your kids are already big enough, then consider using evergreen primary lighting in the space that won't have to be replaced when the kids grow up. Evergreen lighting designs can create a sophisticated look in the space. You can think of a chandelier, chandelier fan, a pendant light or a ceiling light for the same purpose.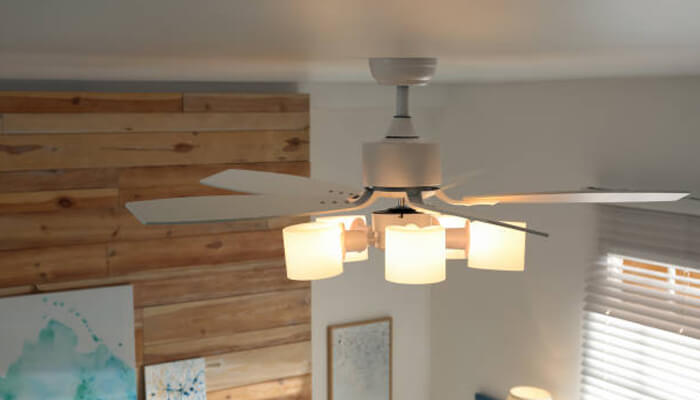 Also Read: The Roles And Responsibilities Of A Fire Safety Coordinator
Effervescent task lights
This part is the most important to get right. The task lighting layout of your kids' space has to be versatile. Be it for the bedtime stories, or homework time, or for other leisure activities, the lighting levels have to be perfect in the space. Now, how do you do that?
Start with a primary lighting design that adds overall illumination to the space. A bedside table lamp or a floor lamp is a must. A desk lamp for the study should be a priority too. Now, with the basic layout set, check for any dark or shadowy areas in the room and complete the lighting layout accordingly.
Subtle night lighting and floor lighting
Most kids are scared of the dark and this is one important concern to address. Night lights are the best choice for your space as they exude a soft comfortable glow that will let your kids have a good night's sleep. Night lights can be found in many shapes and forms. Night lights can be ceiling lights, wall lights or even table lamps.
And for the enhanced safety of your children, you can also install floor lighting with motion sensors. Just in case the night lights aren't bright enough, floor lights can compensate for the same if your children wake up late at night by any chance.
Fairy lights
Fairy lights can beautifully be used as a decorative element in the space and as they would create a stunning focal point in the space. Fairy lights are absolutely gorgeous ambient lights and they can add just the flair and flavour to your kids' rooms.