Are you a day trader looking for a reliable source of education and community support to improve your success rate?
If so, you may have encountered Humbled Trader, an online platform dedicated to helping day traders achieve consistent profits.
Well, unlike other day-trading tutorials that promote a "get rich quick" mentality, Humbled Trader focuses on a more realistic and sustainable approach.
Founded in 2019 by Shay Huang, a renowned YouTuber, Humbled Trader has helped numerous day traders use this strategy to achieve their trading goals.
In this Humbled Trader review, we'll take a comprehensive look at the platform to help you determine if it's the right fit for you.
We'll be taking a closer look at its offerings, pricing, and more to help you with your decision.
How Does Humbled Trader Work?
Getting started is incredibly easy if you're interested in joining Humbled Trader. All you have to do is explore the website and decide to sign up. From there, the registration process is super quick – just provide the necessary information, including your billing details, and you're good to go.
Once you're a member, you can access everything Humbled Trader offers. And trust me, it's a lot.
You'll get over twelve hours of video content, quizzes to test your knowledge, downloadable guides, live videos, a trading chat room, one-on-one coaching sessions, and more.
When you use Humbled Trader correctly, you'll learn essential skills like risk management and executing a given strategy. With this knowledge, you can make consistent profits during day trading.
Features of Humbled Trader
Humbled Trader has various features to suit your needs. Here are some of the top features that make this platform stand out:
1. The Humbled Trader Academy
They provide an extensive educational platform that gives members access to more than 12 hours of video content and 17 training units, covering everything from basic concepts to advanced short-selling strategies.
2. Coaching sessions and webinars
The platform provides weekly webinars and one-on-one coaching sessions (limited to new members). These sessions help traders develop their trading strategies and approaches by offering valuable insights and guidance.
3. Live streams and chats
There is a premarket stream that covers the market in general. The live chat feature lets members chat in real-time and exchange discourse with other traders and Humbled Trader coaches.
4. Chat room
They have a chat room on the site and a member-only Discord channel that enables traders to share their experiences and insights, connect and learn from one another.
5. Daily stock watchlist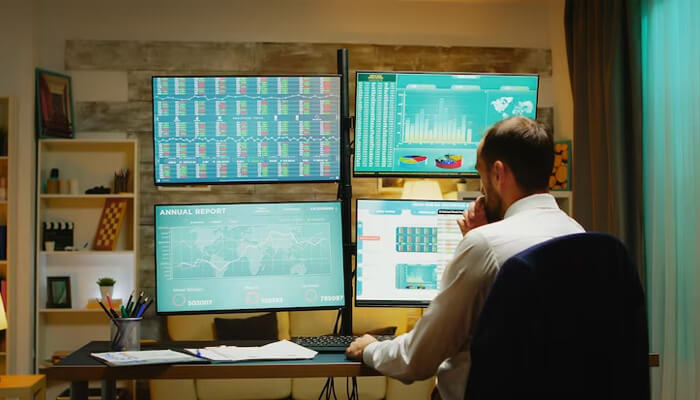 You get important price levels, relevant market information, and other crucial data here. This tool is beneficial for traders to stay up-to-date and make well-informed trading decisions.
6. Educational resources
Platform tools, including trade recordings, a swing trading room, live mentor webinars, live text commentary, weekly stock watchlist, premarket live stream, and exclusive video lessons, create an environment for learning and growth.
Humbled Trader Pricing
With Humbled Trader, you'll find a straightforward pricing structure with no hidden fees or complicated plans.
You can get full access to the platform's features, including the Humbled Trader Academy and members-only Discord server, for an annual fee of $1,490.
Another feature you'll love is Humbled Trader's transparent refund policy. For example, if you access only the first two units and request a refund in writing via email within ten days of purchase, you'll be eligible for a full refund.
The cost may be high, but the potential long-term gains from utilizing the platform's day-trading resources can compensate for it.
Humbled Trader Pros And Cons 
Like any other service out there, Humbled Trader has its own share of pros and drawbacks. Below are some noteworthy pros and cons to keep in mind.
Pros of Money Humbled Trader
They provide comprehensive educational content suitable for all traders
The platform has a transparent pricing structure and a simple sign-up process.
The customer service and support provided by Humbled Trader are vital.
They offer practical and hands-on trading strategies.
Cons of Humbled Trader
Smaller community size compared to more established trading services
Higher cost compared to some competitors
No free trial or demo subscription offered
No mobile app for trading or monitoring while on-the-go
Is Humbled Trader Worth it?
It's alright to ask if Humbled Trader is worth the money or not, in fact that's a brilliant question. Yes, it's worth the try if you want to improve your day trading skills especially as a newbie.
For day traders seeking a comprehensive educational platform and community to master successful day trading, Humbled Trader offers excellent value.
Humbled Trader emphasizes practical strategies that can be applied consistently for profitable results. While the cost may be relatively high, the investment in education should pay off in the long run.
Click here to sign up for Humbled Trader and see for yourself if the features and offering is what you need right now to steer up your trading game.